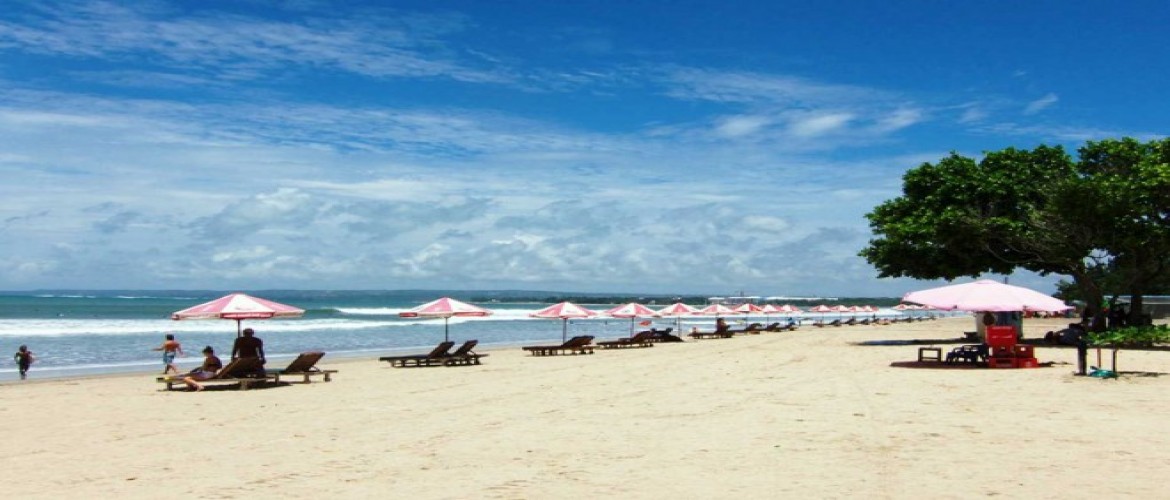 KUTA BEACH
Most mainstream beach area in Bali. Festive and seemed never quiet. In the Kuta Beach you can enjoy parasailing, banana boat or a traditional massage on the beach from the local community. In addition, the attractions can be done in Kuta Bali is Bungee Jumping and Slingshot. Shortly before sunset, do not miss coming to the beach to enjoy a beautiful sunset at the legendary Kuta beach. When the clouds darkening the Kuta night life starts with the beat of the music from the bars and restaurants, and shops open until late at night. Has many bands and world famous celebrities volunteered to sing enliven the atmosphere in Kuta.
CULINARY
There is a wide variety of local and international restaurants that offer typical culinary of Bali and from different countries. These restaurants are along Jalan Kuta.
SHOPPING
There are many shops selling souvenirs along Jalan Kuta which offers a wide variety of items for purchase sebgai souvenirs ranging from clothes, paintings, crafts, and a variety of other unique items.
ACCOMMODATION
Kuta has a beach resort and vary of prices. You can stay in five-star hotels, in the inn that also clean, or renting houses. In a classy hotel where you will have the privacy of the pool or beach is located right in front of a hotel room, but when you take a walk out you will encounter crowds of downtown.
ACTIVITY
Many tourists who come to Kuta for shopping. Kuta provides a lot of summer clothes, jewelry and decorative handicrafts that have been exported around the world. Therefore, you should not miss out on here as they pleased Shop at the start of summer clothes, fashionable clothes, the clothes beach, including unique accessories from shoes, handbags to bracelets, necklaces, and earrings. There are many department stores, boutiques, and shops on the roadside. Famous night spots here like Hard Rock Cafe, De Ja Vu, the Bali Globe, Paddy's Café, and many more.
To commemorate the tragedy of humanity Bali bombings, October 12, 2010 which killed 202 people and wounded 209 others, estblished the Ground Zero Monument right at the scene. This monument has its own uniqueness, seen from the shape of a Balinese carvings shaped of "kayonan", a kind of large leaves whitewashed symbolizing the universe and just below the visitor can read the names of victims from various countries, including Indonesia. Ground Zero Monument now become one of the tourist destinations that attract many tourists in the Kuta area. Those who come are usually just look around, take pictures until I felt dasyatnya happened that night. Every October 12 usually always held the memorial for the victims. Each victim's family members and visitors who come to this monument on that date can lay a wreath as a sign of condolences.
TRANSPORTATION
There are plenty of taxis that can take you to Kuta Beach. Not advised to bring your own car because it would be difficult to park.