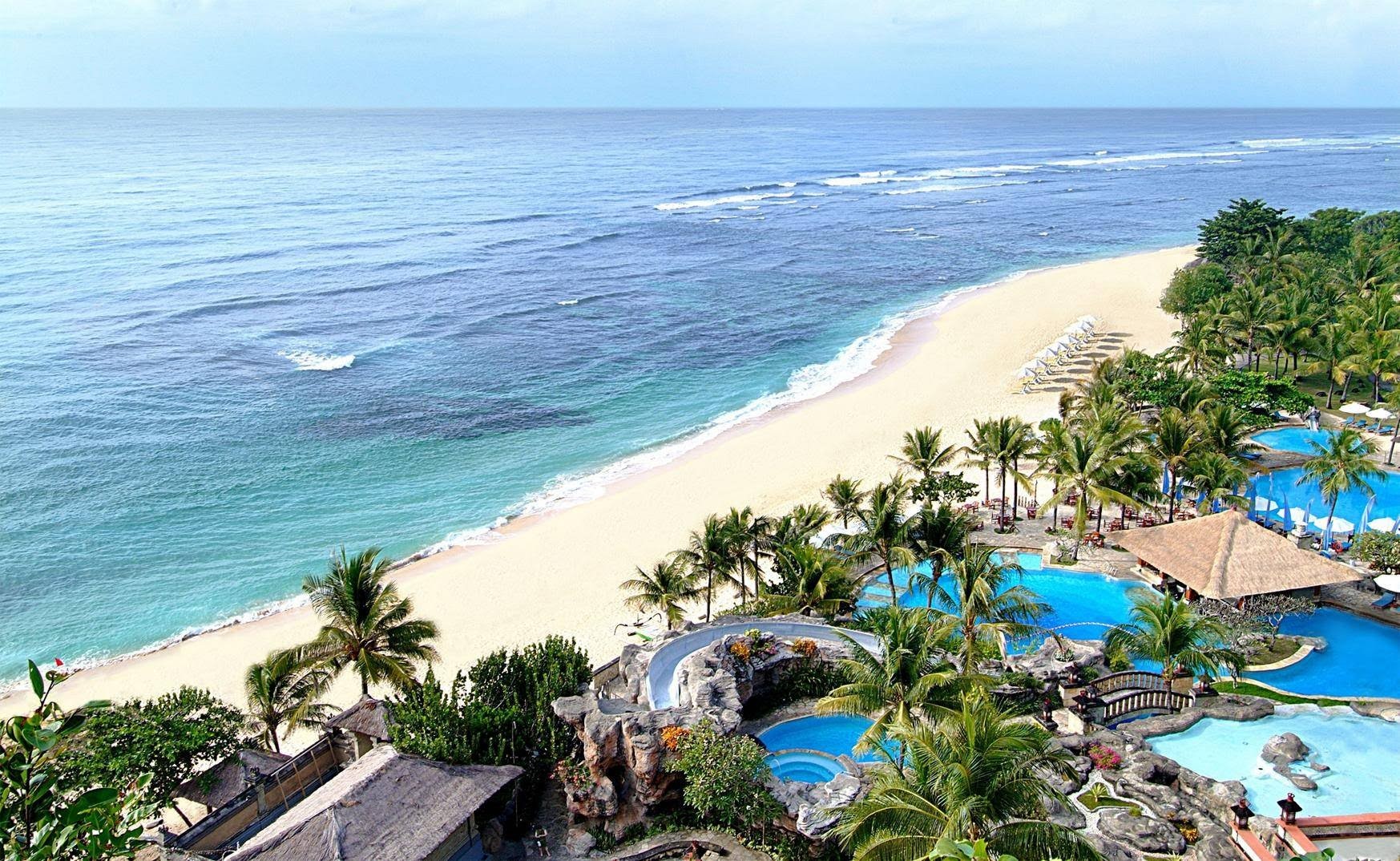 NUSA DUA
Nusa Dua is the perfect place for you to rest and relax under the tropical sun. An atmosphere of peace and quiet for your holiday in Bali truly fulfilled here. Nusa Dua is located in the southeastern most tip of the island, about 15 km from Ngurah Rai Airport Bali or about 40 km from Denpasar. Offering a range of luxurious resort backed by crystal clear sea water and white sandy beaches that complement a variety of tourist facilities. Hotel, restaurant, bar, up shops here are generally of high class and has a price that reflects the status.
Beautiful beaches with blue sea, the cool wind blowing, the water was clear and calm, the sand is white, and the scenery was stunning. Because of its location at the tip of Bali, this beach is empty of visitors when compared to other beaches in Bali. This makes the Nusa Dua Beach feels more private and exclusive.
Nusa Dua is currently managed by the ITDC (Indonesia Tourism and Development Corporation), a state-owned company managing tourism region. Previous area is just a natural stretch of dry land unproductive until later acquired by the government in 1970 and then developed into a tourism project design is classy with a comprehensive and integrated as a cultural tourist resort.
CULINARY
Various food varied provided in Nusa Dua, from local to international food. Some places you can eat taste for example Casade Bar - The Laguna Nusa Dua, Bali East Concard, Sand Bar - The Laguna Nusa Dua, or Sapphire Lagoon Bar - The Laguna Nusa Dua.
SHOPPING
If you are a lover of shopping, Nusa Dua provides a wide selection of good quality fashion, fine dining, art and shops selling a variety of apparel products, souvenirs and beach sports equipment.
ACCOMMODATION
Nusa Dua has exclusive resort features a four star hotel to five-star, both locally and internationally. There are about 25 hotels in Nusa Dua with a room number nearly 4,000. Five-star hotel set along the coast, such as the Nusa Dua Beach Hotel, Inna Putri Bali, Ayodya Resort, Conrad Bali Resort, Grand Hyatt Bali, Melia Bali, Nikko Bali, Sheraton Laguna Nusa Dua, Club Med, The Westin Resort Nusa Dua, and Swiss Grand Bali. Nusa Dua is not just for the exclusive, but also a variety of accommodation options available to suit your budget.
ACTIVITY
Nusa Dua has white sandy beaches, usually chosen by tourists who really want to enjoy a vacation to rest in the hotel, resort or cottage starred scattered along Tanjung Benoa to Nusa Dua. Along the way you can enjoy the beautiful landscaped gardens, ideal for relaxing with the family, to walk, jog, or bike ride. Harmonious blend between the shady trees and white sand, small waves and chirping birds to squirrels jumping. You can relax while lying under the shady trees, and the occasional swim or play sand and water laut.Di along this beach, you can see two very beautiful scenery at the same time. One side is the view of the offshore and marine lines very beautiful, while the other side is the view of the magnificent hotels line up along the beach.
Nusa Dua Beach along approximately 5 km is the backyard of world-class hotels such as Melia Bali Villas Spa Resort, Inna Putri Bali, Novotel Nusa Dua, and so forth. Along the coast by the manager had built a kind of small street for pedestrians to pass through and ease down the beach. In Mengiat Beach is the longest beach in Nusa Dua spanning nearly 1 kilometer from the Hyatt to Pura Geger on the northwestern tip. There is also a blow water or spray of water that occurs when the tidal wave struck the rock tunnel so that they hit the water to form an umbrella. This is the most interesting attractions at high tide. You can adventure around this beach on camels along the beautiful sand beach of Nusa Dua Bali. For you who enjoyed the sport of golf here too there are several golf courses with 18 holes. Bali Golf and Country Club is an alternative for golfers and activities within a few minutes from the main hotel in Nusa Dua.
TRANSPORTATION
Nusa Dua is located in Badung regency, in East Bali, about 15 km from the Airport I Gusti Ngurah Rai Bali, or about 35 km from the city of Denpasar. Accessible by land transport such as private or rented car and a taxi from the airport or elsewhere in Bali.