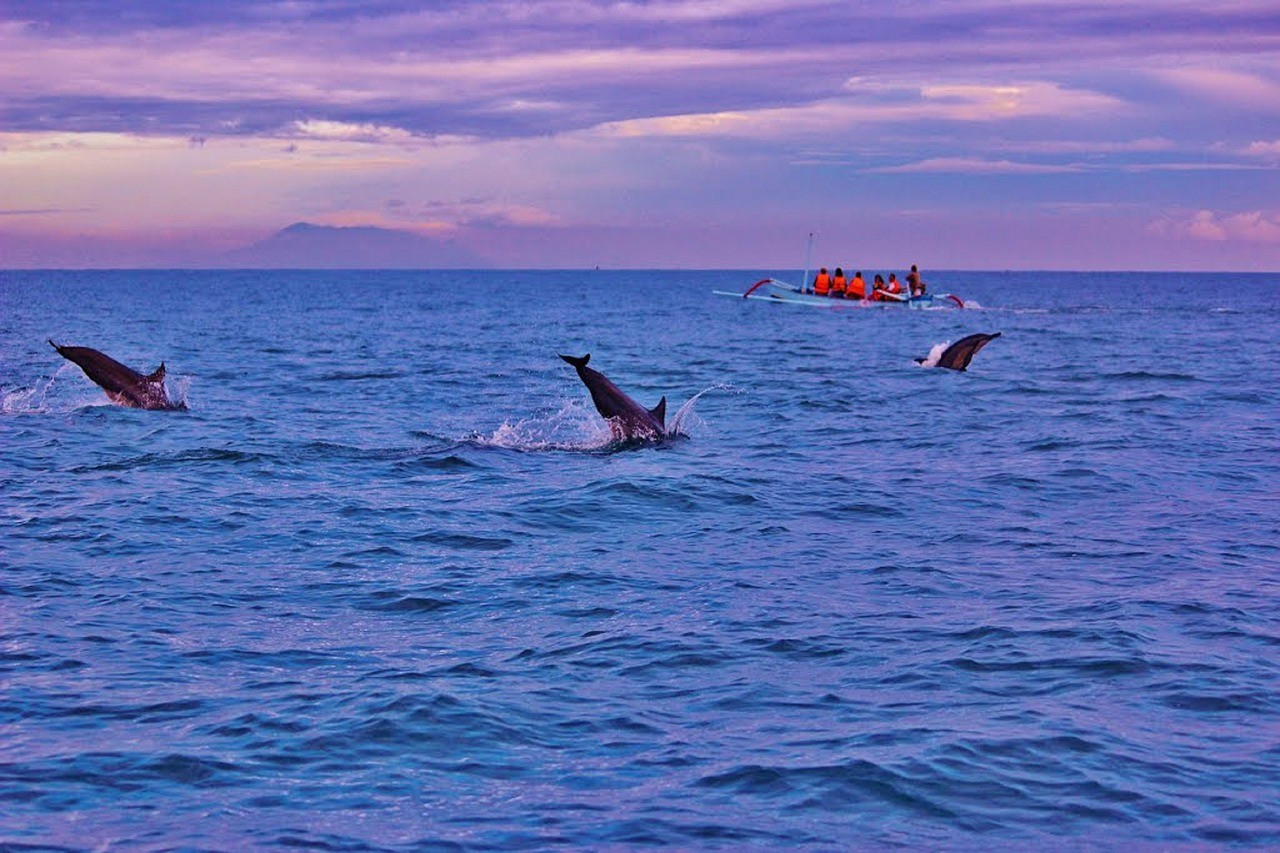 LOVINA BEACH
Lovina Beach is located about 9 kilometers from the city of Singaraja, precisely in Kalibukbuk Village, Buleleng District, Buleleng Regency, Bali. Lovina Beach has no less beautiful than the other beaches on the island. However, the original black sand beach in Bali is not like in general. Waves at the beach is relatively quiet and friendly so as to allow visitors traveled to the middle of the ocean with a fishing boat. Attraction that the most sought after of Lovina is the common show of bottlenose dolphin (Tursiops truncatus). You can watch the clever animals jumping on the high seas with their groups. Usually they appear in the morning when the sun is dawning.
Kalibukbuk Village itself is located near the beach with bay shaped so the view is quite beautiful. The village formerly used as a port, so no surprise if it is so crowded with commerce and cultural exchange. Lovina sea is no less enchanting, coral flowers (sponges) are beautiful and varied fish.
CULINARY
Enjoy the seafood at Lesehan Tanjung Alam Lovina restaurant, it has a very tasty grilled fish menu. There are also food stalls selling traditional foods such as Jinggo cows rice, which can be found around Jalan Ahmad Yani. Waroeng Lovina in Jalan Ampera is recommended for fans of Balinese food but at a more affordable price. Along the edge of the Lovina Beach you will be served by the souvenir shops that sell swimwear, T-shirt, and accessories from the rocks. But the most unique here is the statue of a dolphin made of wood. Some statues even special made from of ebony wood.
ACCOMMODATION
Lovina area has a specialty lodging that provides the dolphins attraction that have been trained, it is the Bali Melka Dolphin Hotel Resort. There are also plenty of lodging accommodation ranging from jasmine inn accommodation to luxury hotels, including Lovina Beach Hotel Bali, Aneka Lovina Villas & Spa Bali, Rini Hotel, Suma Beach Hotel Lovina.
ACTIVITY
Lovina was so quiet, suitable for those who want to find peace. Take a walk on the beach while enjoying the breeze that blew dense trees in the vicinity. The next day around 06.00 a.m., you can follow the dolphin tour aboard the fishing boat. While the sun rises, for 3 hours you will be taken around the high seas waiting for the animal to emerge. Diving and snorkeling are other interesting options. Around Lovina many provided by the operators which will organize the needs of the attractions.
TRANSPORTATION
To get to Lovina from Denpasar you can skip tourism of Bedugul and takes about 2 hours and conditions of the winding road. You can also use other alternative,it is passing lane of Gilimanuk to Lovina, this route is relatively straight and comfortable but it takes 4 hours.