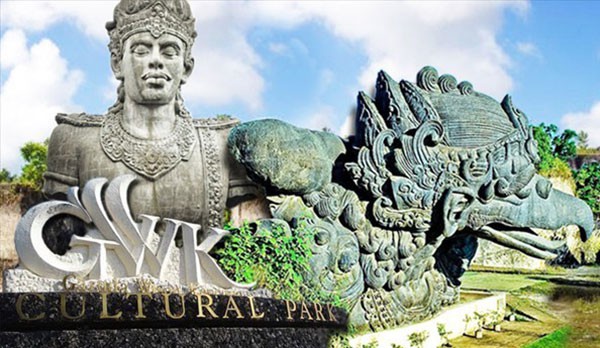 Garuda Wisnu Kencana or often abbreviated GWK is a tourist parks once the window art and culture in the southern part of the island of Bali. Located in Unggasan-Jimbaran Hill, Tanjung Nusa Dua, Badung regency, about 40 kilometers south of Denpasar. GWK is above the limestone plateau and from there you can look at the panoramic tourist area on the south coast of Bali background of stunning natural scenery. It's Located at an altitude of 126 meters above the ground or 263 meters above sea level. In this cultural garden area, it's planned to be established a landmark of Bali, the giant statue of Lord Vishnu riding Garuda as high as 12 meters. This giant statue is the work of renowned sculptor Bali, I Nyoman Nuarta. This monument was developed as a park of culture and became an icon for tourism in Bali and Indonesia. Garuda Wisnu Kencana statue is modern manifestation of an ancient culture and traditions.
GWK is the largest mega project in Bali, plans to build its image as high as 126 meters with a width of 66 meter wingspan eagle, estimated to have weighed 4,000 tons. Of the total land area of ​​200 hectares planned, while possessed 100 hectares and the total work completed to date only about 15%. For newly completed statue is half the weight of Lord Vishnu, the head of an eagle, and the hands of the god Vishnu.
CULINARY
In GWK, there are the available numbers of cafes and restaurants that provide culinary services, ranging from snacks, refreshments to banquets. On-site catering services provided capable of serving up to 2000 serving in various food dishes Indonesian, oriental and International dishes. You can also sample the food in Jendela Bali the Panoramic Resto with spectacular views.
SHOPPING
On the front yard after the entrance provided some souvenir shops provide a variety of souvenirs and Balinese handicrafts are interesting and qualified.
ACCOMMODATION
Some hotels are available around the area GWK, like Pat Mase Villas Hotel, Gending Kedis Luxury Villas Hotel, Bali Baliku Luxury Villa, Udayana Kingfisher Eco Lodge, InterContinental Bali Resort, Nirmala Hotel and Resort, Jimbaran Puri Bali Hotel, Keraton Jimbaran Resort and Spa, AYANA Resort and Spa, The Beverly Hills Bali Hotel, The Dreamland Luxury Villas and Spa, Puri Bambu Hotel, Swiss-Bel Hotel Bay View Suites and Villas, Langon Bali Resort and Spa, New Kuta Condotel, The Hill Villas Hotel, or Park View Heights Private Villas Hotel.
ACTIVITY
In GWK you can do a variety of fun activities such as fun ride and adventure, art and cultural package, wedding package, Segway fun ride, and outbound. Every day there are daily events such as the performance ofKecak tektekan, Balinese dance,rindik music, barong ngelawang, joged bumbung, as well as dance of barong and kris. Before getting into the parking area you will find on the ground below the cliff, the two parts of the hand is a large statue. A sight that makes you able to estimate how big the size of the statue later. Near the entrance try to trace the limestone walls that have been carved some figures in the Hindu stories. Then look at the next high cliffs about 20 meters that make this place look very grand and very natural.