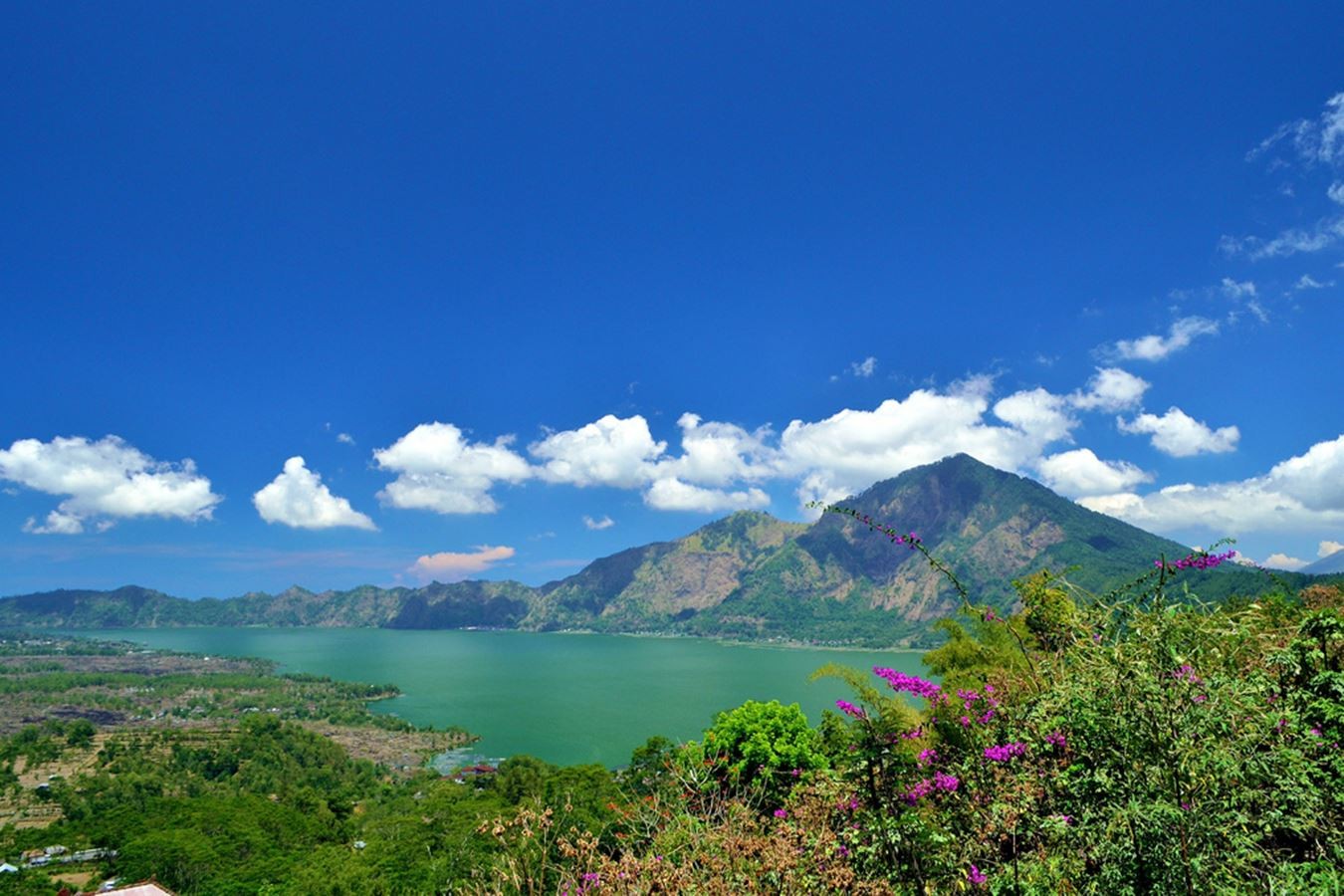 BATUR
Batur has a very interesting view, like Batur Mount and Batur Lake. Not to mention the cool air during the day and cold at night make this place much visited by tourists. If you stand in Penelokan (the Balinese language means the place to look) situated in the territory Kedisan, Kintamani, is the most strategic location to enjoy the natural scenery of this tourist area. Your eyes will be amazed at the sights under the most amazing combination of Batur Mount and its expanse of black rocks with the Batur lake blue crescent shaped in the middle of the caldera by many tourists said to be the most beautiful caldera in the world.
CULINARY
There are several restaurants in the area of ​​Batur that you should try. Some restaurants here use a view of Batur Mount and Batur Lake as their restaurant background. So you can enjoy a meal while enjoying the beautiful panorama. Penelokan (a look-see), there are several restaurants, where you can rest and eat food that suits your taste.
SHOPPING
Because Batur Kintamani is located in the district which is famous for the orange fruit, then you can buy these pieces as souvenirs. Many of the souvenir shops scattered along the way Denpasar-Kintamani, especially the passing lane Tampaksiring. In some tourist sites are also several souvenir shops that sell unique souvenirs of Bali.
ACCOMMODATION
Tourism in the region Batur available of parking, bistro, restaurant, lodging, restrooms, as well as stalls drinks and snacks. Public transit facilities and ferry transport are also available. Some hotels that you can live among others Surya Hotel and Resturant, Puri Bening Hayato, Astra Dana Hotel, or Pondok Wisata Baruna.
ACTIVITY
Because this area is a tourist area so there are lots of things you can do here. Not just a panoramic view of the mountains from Penelokan area, but you can also relax in the restaurant to enjoy a meal on the table while accompanied by cool air that are friendly or go down to visit Batur Mount and Batur Lake.
BATUR MOUNT
Batur Mount is spectacular, it is an active volcano in Batur, Kintamani District. Located in the northwest of Agung Mount, the mountain has erupted many times. The last eruption occurred in 2000 and the most devastating occurred on 2 August and ending 21 September 1926. The eruption of Mount Batur that makes hot lava flow that hoards the village of Batur and temple of Ulun Danu Batur. If you see Batur Mount from a height, the color black as if to show that trees on the mountain burned with fire. But apparently this color comes from the expanse of black rock sitting quietly on the surface of the mountain. Color is what makes Batur Mount looks stunning. Activity to climb the peak of Batur Mount approximately take for 3 hours, of course, by hiring a local guide. At the top of the mountain, you'll see Agung Mount and Rinjani Mount in the distance. In addition to climb, you can also visit other tourist areas such as into the crater and the caldera. The other attractions in the Batur Mount area include Kedisan, Batur village, Writing, Fruits, Toya Bungkah, and Songan. As for cultural tourism in the area of ​​Batur Mount, you can visit Trunyan. In the north of Trunyan there is the burial site of the village, where the bodies here are not buried or burned, but put under the tree after an elaborate funeral rites. The funeral place is filled with the bones, and that we find a corpse that is still new, oddly enough these corpses do not emit odors at all. So if you have big guts, you can visit Trunyan.
BATUR LAKE
Batur Lake has a spectacular panorama, is the largest lake in Bali. Batur Lake crescent-shaped is located in the caldera of Batur Mount, which is thought to have formed as a result of two major eruptions. This eruption make the land around the lake into a fertile, so that the area of ​​ Batur Lake is an area that has long been used as a vegetable farming or tourism because it lies at an altitude above 1000 meters above sea level. In this lake there is also a flow of water in a soil that drains the water of Batur Lake, which came into spring at several places in Bali and is considered the "Holy Tirta". To get to the edge of the lake, visitors will descend steep hills, rocky and sandy, up to Kedisan village located on the shores of the lake. On the western edge of Batur Lake there is Toyobungkah which is a source of natural hot springs that are used for bathing because it is believed to cure skin diseases. If you want a more closed, go to Tirta Sanjiwani Hot Spring Complex. In this place you can soak to relieve aches, especially those who just returned hike.
TRANSPORTATION
You can go to Kintamani from Kuta, Sanur, Ubud and Nusa Dua and takes about 1 to 2 hours by car and motorbike or a travel agent. Usually all travel agents in Bali put Kintamani in their itinerary.