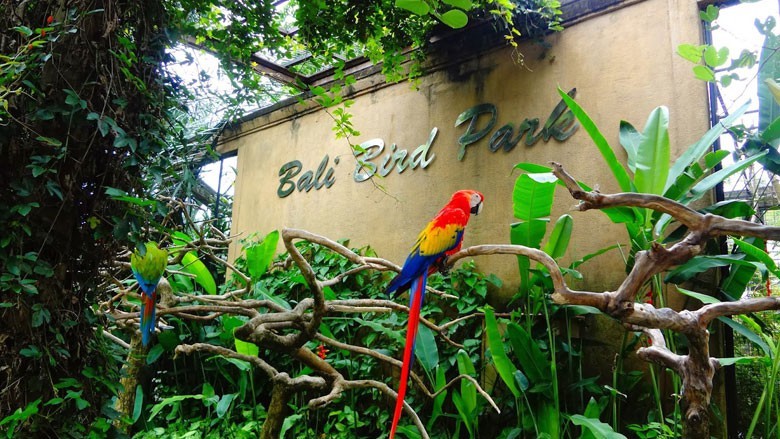 Bali Bird Park is the place to witness the largest and finest collection of Indonesian birds in the world, including fantastic birds from Africa and South America. Covers an area of ​​two hectares covered by trees, the park provides sanctuary to almost 1000 birds of 250 different species. The innovative approach to the presence of rare and tropical birds has grown by placing them in their habitat together with all other bird species.
This park displays stunning flora with over 2,000 tropical plants including 50 varieties of palms that attract many butterflies. Applying the restoration, research and animal health facilities, the park has a high success rate in the captive reproduction of exotic birds like the Hornbill birds and birds of paradise.
ACTIVITY
The park is made into areas that are the natural habitat of birds, complete with trees and traditional artifacts. Valuable experience in the forest bird Bali and met with the world's rarest birds, parrots Bali. Discover the exotic birds of Papua and one of the most complete collections of birds of paradise in the world. Take a trip to the most eastern Indonesia, home to a large number of birds and dragons, giant carnivorous lizards that are direct descendants of dinosaurs. Java Eagle bird watching was fantastic and crested serpent eagle and listen to the chirping of finches that echoed from behind the foliage. Visit the inland forests and misty mountains of Sumatra to find and watch rare endemic birds and strange. Dare to visiting other tropical continents to see a collection of exotic birds such as the South American Scarlet Macaw and Toucan, Congo Grey Parrott and other birds of the African savannah. Beauty Watch Cassowary, crane, heron and pelicans and many other birds when they roam freely, live and breed throughout the park.
Stroll through the cage-bird sometimes mimic ecological systems Bali forests and rain forests of Papua. Paths and bridges carved and shaded by dense foliage where the sun peeking out from cracks. Some points of view are strategically placed to catch a glimpse of the birds fly free to follow their instinct of life that is foraging, nesting and mating.