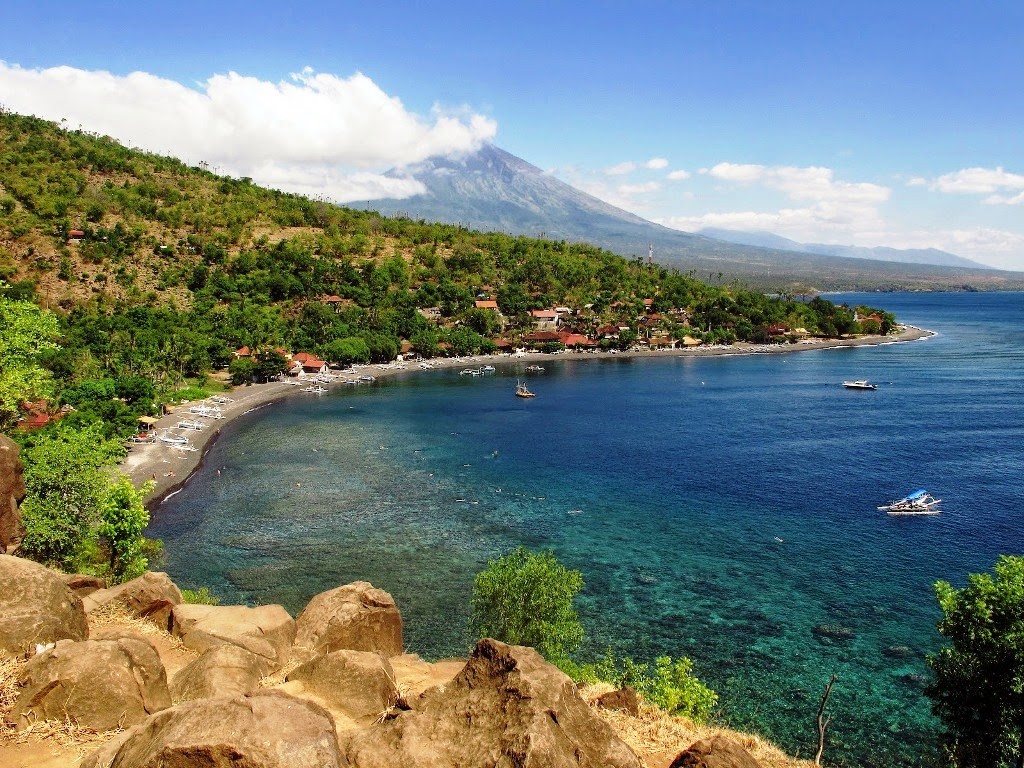 AMED BEACH
Amed Beach in the east of Bali is the beauty that you dream about. This is a special paradise of outstanding exotic beauty, cultural life and the faces of the people were friendly. Here you can finally find peace and tranquility, enjoy delicious food and enjoy the advantages of comfortable accommodation and cheap. Amed offers an excellent dive sites including if you want to practice diving. Having a flat lagoons and coral reefs enough to swim for 5 minutes to enjoy this magnificent scenery.
This location is highly recommended for beginner divers. By boat then Amed has cracks of the rock, great to pass while diving. This activity is fun and appropriate for everyone. Snorkeling and diving on the black sand beach here is incredible, the type and amount of fish on this beach, including the best among other beaches in Bali and the water temperature is 28 degrees. A gang of cardinal fish, triggerfish, black snappers, butterfly pyramid, banner fish, and damselfish can be seen in bali sand, table corals, gorgonian huge fan, Acropora, tree Dendronephthya, sponges, crinoids, and sea fans are commonly found at a depth of 20 meter.
Cemuluk is the ideal place to begin snorkeling. 4 kilometers further south along the coast terlatak Banyuning, where you can find the wreck and some of the most beautiful coral that can be seen anywhere in the Lesser Sundas. Here the beach is a little deep and sometimes choppy large, so the area is suitable for those who have experience in diving.
CULINARY
You can find food stalls selling snacks and rice mix. The best restaurant in the area is Baliku, approximately one kilometer from the south of Blue Moon, a restaurant in the area Lipah serving Indonesian food was delicious.
SHOPPING
Marine products, such as objects made from shells, coral, etc.
ACCOMMODATION
Amed is actually the name of a village. There are dozens of places to stay along the coast, from the hotel to simple but comfortable accommodation.
ACTIVITY
You can visit the fish market in the morning when the tuna was coming in from the sea and you can also enjoy the scenery around the village of Amed.
TRANSPORTATION
This beach is located in the northeast of Amlapura. If you want to use public transport with a bus ride from Denpasar (Batubulan Terminal), towards Amlapura it took over two hours. Then by minibus to Amed for 30 minutes. Bemo usually stop in the village, but you have to make it clear to the driver to take you directly to the Jemeluk beach.